This year's Moscow International Film Festival (the 36th) - the largest, although not the most loved film festival in Russia. Not because of the lack of good quality films but more because it always seems much more of a prestige project rather than having a real reason or thread running through it. One invariably gets lost in its eclectic morass. So the wealth of individual films here is somewhat set back by an atmosphere of anonymity- there is little real festival spirit that one feels at some of the smaller festivals like Odessa or even at the Kinotavr festival dedicated to Russian cinema alone. Outside a couple of forums the anonymity of the Oktyabr movie theatre means sucks out much of the enjoyment at finding such a sudden embarrassment of riches available for ten days in late June. One film critic
Alexey Yusev
in spite of suggesting that it has the best competition programme for the past five years has announced that he will not participate in this year's festival detailing a litany of complaints about how it is a festival "with little real authority, (and a) cumbersome, ineffective, expensive event (which exists) purely for the purpose of earmarking the name of and highlighting the prestige of its director Nikita Mikhalkov".
In many ways it is a showcase of that which could be shown throughout the year in Moscow if only the few decently programmed cinemas such as the Khudozhestvenni weren't closing down to be ramped up into expensive multiplexes where art house films will most likely be excluded. Instead Moscovites have ten days in which to gorge on those kind of films which won't come their way for another year.
Some of the competition films certainly do seem as though they could be films worthy of an 'A' film festival (which was
certainly not the case last year
). Anton Corbijn's
A Most Wanted Man
; Marc Fitoussi's
La Ritournelle
starring Isabelle Hupert and Russia's own Valerija Gai Germanika with her film
Да и Да
(Yes and Yes) are three of the most awaited features (they are for example those chosen by
Novaya Gazeta's critic Larisa Maliukova
). Another Russian film by Vladimir Yagel' is also in the competition programme.
Valerija Gai Germanika
Of course the most prestigious out of competition section is the 8 1/2 section where films by the Dardenne brothers (
Deux Jours, Une Nuit)
, the acclaimed Malaysian-born Taiwanese director Tsai Ming-Liang with two of his films being shown here:
Stray Dogs
and
Journey to the West
. If one can get into the inevitably packed Godard showing then his
Adieu au Langage
will be a sure bet. And Robert Le Page's and Pedro Pires's
Triptych
is surely likely to be another pretty sure bet.
The documentary section is nearly always best served by the Free Thought programme than the competition films but it would be wrong to miss a few of these films too. Jean-Stephane Bron's
L'Experience Blocher
should be of interest as should
Web Junkie
by Hilla Medalia and Shosh Shlam. Russia's only entry in the documentary competition is Svetlana Strelnikova's
Кардиополитика
(Cardiopolitika).
The Free Thought out of competition documentary section has Errol Morris's
The Unknown Known;
the 3D film project by six acclaimed filmmakers including Wim Wenders on the soul of buildings and entitled
Cathedrals of Culture.
A restored version of Robert Flaherty's
Moana of the South Seas,
Godfrey Reggio's
Visitors
and Michael Glawogger's
Workingman's Death
are all also must sees. As is the main Russian film in the section Vitaly Mansky's
The Book.
The opening film of the festival
Red Army
by Gabe Polsky is also a documentary film from this excellent programme.
The renowned Russian film critic Andrey Plakhov has his own curated programme and of course there is much to see here. Dietrich Brueggemann's
Kreuzweg
and films by Lech Majewski and Abderrahmane Sissako are likely to be worth watching but it is Alain Resnais's
Aimer, Boire et Chanter
(known in English as
Life of Riley
) which is surely one of the films of the festival. The very fine Russian film critic
Boris Nelepo has reviewed it here
.
The programme director of the film festival Kirill Razlogov has highly recommended the Beyond Fiction and Non Fiction section and probably the most awaited film there is Tony Gerber's and Maxim Pozdorovkin's
The Notorious Mr Bout
(Pozdorovkin was, of course, the co-director of
Pussy Riot: A Punk Prayer
which neither got a showing at the Moscow Film Festival nor elsewhere owing to censorship).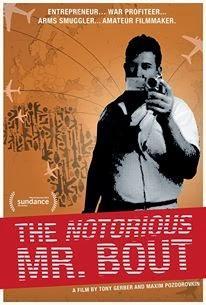 There will be some interesting special showings- a mixture of old Soviet films and some Wenders and will apparently include the film on
Chechen deportation that has been banned from general release
. Chinese, Latin American and a retrospective of Ealing Studio films are further sections. An Ettore Scola film on Federico Fellini and a Russian Trace section only make the impossibility of choosing everything that one would like all the more tormenting.
Further Russian sections (or films with links to Russia) will include the Russian Trace section (foreign films which have some connection to Russia, however tenuous). Last year it was the Spanish film
The K Effect
which was the highlight of that section for me. Spain has another film of the nine in this sectiont this year entitled
La Distancia
by Sergio Caballero. The annual Cine Fantom programme looks very promising with a large Evgeny Kondryatev retrospective which will surely merit a separate post. The Russian programme of the festival is also out and along with an Aleksander Sokurov retrospective should have much to see. However, it appears that the showing of Zvyagintsev's Leviathan is in some doubt. This surely was going to be one of the highlights and unmissable films of the festival for those who had missed it in Sochi.
The Cine Fantom publication- an organisation for two decades producing some fine alternative and underground cinema in Russia.
A small selection of films loved by that giant of Gosfilmofond Vladimir Dimitriev (who passed away last year) is on show including some fine Soviet classics which it will be a real pleasure to watch if one finds the time in these ten days.
Vladimir Dmitriev